Disclaimer
The Dover Public Library website offers public access to a wide range of information, including historical materials that are products of their particular times, and may contain values, language or stereotypes that would now be deemed insensitive, inappropriate or factually inaccurate. However, these records reflect the shared attitudes and values of the community from which they were collected and thus constitute an important social record.
The materials contained in the collection do not represent the opinions of the City of Dover, or the Dover Public Library.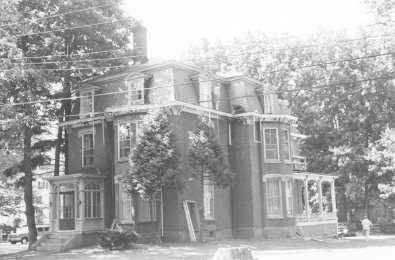 55 Summer Street
This handsome brick house was built around the time of Colonel Hall's marriage in 1877. A Dartmouth graduate, he became a Dover lawyer in 1860, was Strafford County School commissioner, secretary to one U.S. Senate committee and a clerk on another. Then he went on active duty as captain on the staffs of Union Generals Whipple and Howard and participated in several Civil War battles. He was aide to President Lincoln shortly before the president's death. He returned to Dover and was County Court clerk, a judge in Dover, and from 1877 to 1886 worked with the Boston Custom Office as Naval Officer of the port. He was very prominent in the N.H. Republican Party, was active in Dover affairs, a skilled orator, and used this great influence to advance the interests and prosperity of Dover.

    From the 1980 Heritage Walking Tour booklet
This historical essay is provided free to all readers as an educational service. It may not be reproduced on any website, list, bulletin board, or in print without the permission of the Dover Public Library. Links to the Dover Public Library homepage or a specific article's URL are permissible.