Disclaimer
The Dover Public Library website offers public access to a wide range of information, including historical materials that are products of their particular times, and may contain values, language or stereotypes that would now be deemed insensitive, inappropriate or factually inaccurate. However, these records reflect the shared attitudes and values of the community from which they were collected and thus constitute an important social record.
The materials contained in the collection do not represent the opinions of the City of Dover, or the Dover Public Library.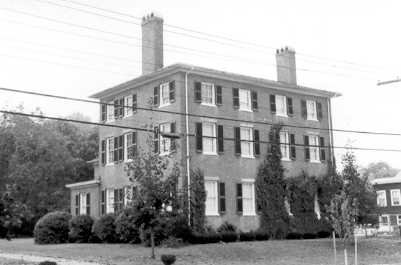 192 Central Avenue


Now also part of the Woodman Institute, this house built in 1813, five years before the Woodman House, but also by Captain William Palmer. It was built for John Williams, a successful Dover merchant who has been called "the greatest captain of industry that Dover has ever had." It was Williams who founded the Dover Cotton Factory upper mil in 1812. With Isaac Wendell he was a founder of the nail factory at the Lower Falls in 1821; of the cotton mills in 1822-25; and of the Cocheco Print Works in 1827.  Williams also served as a representative in the Legislature 1816-17 and 18825-28, and his house was the social center of Dover during those years. Williams lived here until 1840 when he removed to Boston, dying there in 1843.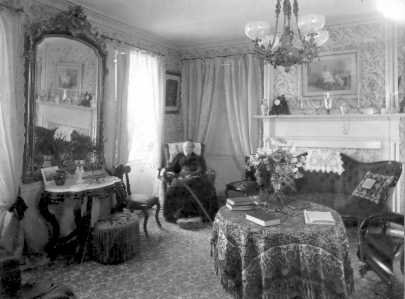 Mrs. Hale sitting in her parlor

The house was then purchased by John P. Hale. Called on of Dover's foremost citizens, Hale served in the N.H.  Legislature and was Speaker of the House. In 1843, he was elected to Congress. In 1847, he entered the Senate from N.H., and was the first (and for two years, the only) abolitionist Senator in the U.S. Congress. Twice he stood as Free-Soil candidate for President of the U.S. Their daughter Lucy inherited the house, and when she died in 1915 it was purchased by the Trustees of the Woodman Institute.
   From the 1987 Heritage Walking Tour booklet.
 
This historical essay is provided free to all readers as an educational service. It may not be reproduced on any website, list, bulletin board, or in print without the permission of the Dover Public Library. Links to the Dover Public Library homepage or a specific article's URL are permissible.