Disclaimer
The Dover Public Library website offers public access to a wide range of information, including historical materials that are products of their particular times, and may contain values, language or stereotypes that would now be deemed insensitive, inappropriate or factually inaccurate. However, these records reflect the shared attitudes and values of the community from which they were collected and thus constitute an important social record.
The materials contained in the collection do not represent the opinions of the City of Dover, or the Dover Public Library.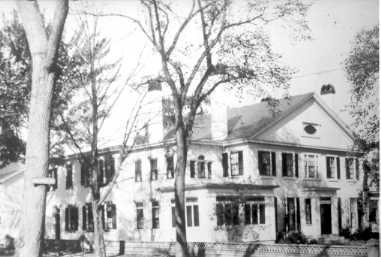 113 Locust Street


This house was built about 1831 by the Cocheco Manufacturing Company as a residence for their superintendents. Although altered and enlarged, it retains its Greek Revival look, which set the style for other Dover houses. It incorporates the elliptical pediment window, flush boards (to simulate stone), and floor to ceiling side windows. It has a general temple appearance and a gable front. The front doorway suggests a Gregorian style. Abraham Lincoln spent the night here during his presidential campaign tour in March 1860. He slept in the northeast bedroom and made his own bed before coming down to breakfast. Hence the name… Lincoln House.

    From the 1980 Heritage Walking Tour booklet


This historical essay is provided free to all readers as an educational service. It may not be reproduced on any website, list, bulletin board, or in print without the permission of the Dover Public Library. Links to the Dover Public Library homepage or a specific article's URL are permissible.