Winter Operations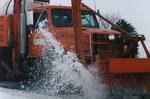 Brought to you by the Community Services Department, Public Works Division
Below is an overview of the City's winter operations procedures.
Policy: Snow Removal and Ice Control
Governing Laws: RSA 231:92; RSA 507-B:2-b; Dover Code Chapters 166-11; 166-15; 166-19.
Approval Date: December 8, 1999
Next Review Date: October 2000
OBJECTIVE: It is the goal and intent of the City of Dover to provide timely, efficient and cost-effective winter maintenance, snow removal and ice control on the roadways of the municipality for the safety and benefit of the City's residents and the general motoring public.
PROCEDURE: The objective stated above will be achieved by implementation and execution of the procedures and tasks outlined in the City of Dover Winter Operations Snow Removal and Ice Control Procedures. Due to the many variables that are inherent in New England weather, each storm and/or weather event may require slightly different effort and/or emphasis on any number of maintenance tasks, which together, determine the overall winter maintenance, snow removal or ice control strategy.
LEVEL OF SERVICE: It is not possible to maintain a snow and ice-free road or sidewalk during a storm. It is the intention of the City to provide practical, safe access along city streets and municipal facilities during winter storms. The Department shall strive to achieve bare pavement in all priority streets in Dover within the 24 hours following snowstorms 2" or greater. All operational decisions regarding pre-salting, scheduling equipment operators and private contractors shall be based upon this goal. The Department shall conduct removal operations throughout snow storms to keep non-priority streets open for vehicles.
It is our policy to begin snow removal operations upon accumulation of two-inches of snowfall. The Public Works Superintendent may, at his or her discretion based upon weather information reports, elect to not remove snow until greater or lessor accumulations. During nights and weekends the Dover Police Department shall notify the Public Works/Utilities Superintendent that road conditions warrant mobilization of snow removal or ice control activity.
Pre-treatment and ice control may be addressed in advance of a storm, during the actual storm as seen effective, and preceding the storm. It should be noted that salt has a much slower effect on melting snow and ice at temperatures below 20 degrees, and may not be applied until it is warmer. Chemical pre-wetting maybe used to enhance de-icing operations when conditions dictate.
Sidewalk snow clearance will be conducted as soon as possible during winter storms. Personnel availability and the need to maintain safe roadways will take priority.
COMMAND: Direction of all winter maintenance activities for the City of Dover is vested with the Community Services Director or his or her designee.
EXECUTION: The policy outlined above is intended to serve as the normal operating procedures for winter maintenance, snow removal and/or ice control for the City of Dover. One or more of the following, which may delay or prevent the implementation of this policy, may affect all or any part of this Policy:
Equipment Breakdown
Snow Accumulation in Excess of 1" Per Hour
Freezing Rain or Other Icing Conditions
Traffic Congestion
Emergencies
Personnel illness