posted on: 6/18/2018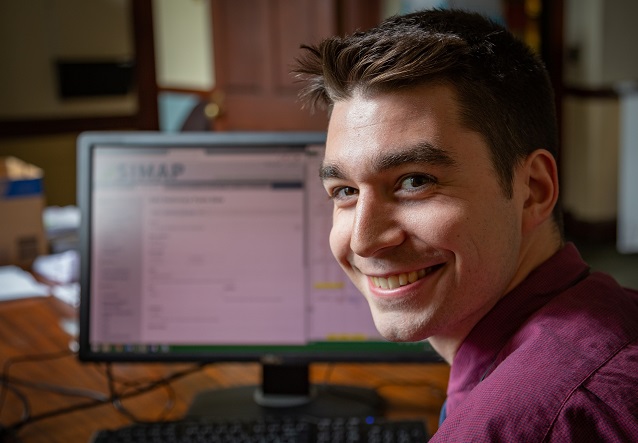 The City of Dover's Planning and Community Development Department has welcomed Jackson Kaspari to City Hall for the summer as a University of New Hampshire Sustainability Fellow. Dover was selected to host one of the UNH Sustainability Institute's 23 fellowships in 2018. These fellowships pair outstanding graduate and undergraduate students with competitive, challenging, multi-disciplinary projects based with organizations and communities throughout New England.
The City's project will be a first in New Hampshire. The project is not only a calculation of the carbon footprint of municipal operations, but also the nitrogen footprint created by the City's facilities, fleets, school food purchases, fertilizer program, and wastewater treatment methods.
Kaspari will utilize a tool developed by UNH, the Sustainability Indicator Management and Analysis Platform (SIMAP), which was designed for campus analyses. Part of Kaspari's work will be to begin to modify the tool in ways more directly applicable to municipalities.
Kaspari is a 2018 graduate of UNH with a B.S. in chemical engineering, as well as a graduate of St. Mary Academy and St. Thomas Aquinas High School in Dover. Following the summer fellowship, he will continue at UNH as a doctoral student of physical chemistry. The project ties in with Kaspari's research interests in atmospheric chemistry.
"This project will provide me an excellent opportunity to give back to the Dover community via the application of many skills developed during my time as a chemical engineering undergrad and atmospheric researcher," Kaspari said. "Furthermore, compiling a carbon and nitrogen footprint baseline, using SIMAP, will be the essential first step allowing the City to establish and execute reduction goals for years to come."
The project will result in a final report and presentation to the City Council with recommendations for reducing the City's production of each pollutant. A carbon footprint considers both carbon dioxide and methane emissions that are released into the atmosphere through many activities, including the production and consumption of food, fuels, manufactured goods, materials, roads, buildings, transportation and other services. A nitrogen footprint estimates the reactive nitrogen produced as a byproduct of burning fossil fuels or resulting from the production and waste of food, fertilizer use, and human and animal waste.
Kaspari will be mentored by Assistant City Planner Elena Piekut, who is the Planning Department liaison to the Dover Energy Commission.
"The Energy Commission has become a dynamic group of citizens with wide-ranging scientific, technical, and legislative expertise, and they are very pleased to have been selected for this fellowship," Piekut said. "We look forward to providing the Commission, City Council, and broader public with a picture of the City's impacts and steps the City can take to lessen those impacts where practical."
This project furthers many goals identified in the City's Master Plan, the guiding document for planning efforts and policies. Goals established throughout the chapters of the Master Plan consider becoming a community that can sustain itself and provide a high quality of life for generations, protecting and conserving its natural resources, including water quality, and maintaining infrastructure that supports many modes of transportation. A specific objective of the Stewardship of Resources Chapter of the Master Plan is to "identify and adopt a carbon limit and specific reduction strategies for City buildings and vehicles." With the help of Kaspari and UNH, the City will do that and more.
According to Christopher Parker, AICP, Dover's Assistant City Manager, who oversees planning activities, "In Dover, the Master Plan isn't just a report we complete, shelve and admire, it is a document we live, and grow with. This project is an example of the community embracing the Stewardship Chapter and its recommendations."
Like Piekut and Kaspari, Parker is excited to see this project move forward.
"Dover has recognized the changing climate and environment we live in and wants to address challenges related to that adaptation," Parker said. "This project will help the community better plan for the future and ensure that our vehicles and buildings are invested in and have a long and valuable useful life."
For more information on SIMAP, see www.unhsimap.org.